The dental implant market is growing rapidly and is expected to reach a value of $13.8 billion by 2023
A number of factors, including an aging population, growing knowledge of the advantages of dental implants, and technological advancements, are fueling this growth.
Compared to more conventional options like dentures, they have a variety of benefits, including better function and, of course, cosmetic appeal.
The demand for implants will only grow as the population as a whole ages and as they become more accepted.
There was no long-term remedy for tooth loss available on the market until now.
In addition, as people become more aware of the benefits of dental implants, they are more likely to consider them as an option for their own dental needs.
In addition to the above mentioned rationale, advances in technology have made dental implants more accessible and affordable than ever before. As a result of all these factors, the dental implant market is expected to boom at a fast pace in the coming years.
Dental implants are becoming more and more popular as people become more aware of their benefits
This begs the question of… "how can you be sure that your dental practice is getting its fair share of implant cases?"
The answer, as with most things in dentistry, is marketing. Dental implant marketing is essential to ensure that your dental implant practice is visible to potential patients who may be considering this treatment option.
Digital marketing is a powerful tool that can be used to reach out to potential patients and promote your dental implant practice. There are a number of platforms that can be used for this purpose, such as Google Ads, Facebook Ads, and Instagram.
When it comes to dental implant marketing, it is important to remember that you are not just competing with other dental practices in your area. You are also competing with the online presence of national brands and chains. This is why it is
There are many different ways to market dental implants, and each has its own advantages and disadvantages
Dental implants have become increasingly popular in recent years as a way to replace missing teeth. They are strong and durable and can provide a long-term solution for people who have lost teeth due to injury, periodontal disease, or other reasons.
However, dental implants are also expensive, and finding the right way to market them can be challenging.
This requires a strong focus on emotionally driven marketing. Dental implants may be expensive – but how much is your confidence on a first date worth to you? Your ability to enjoy an apple? Smiling again in a photo? The list goes on.
Framing dental implants as a life changing solution becomes easy when you have the tools to do so. It can be complex, and it may take some time to develop an effective strategy, but with the right resources – you can make magic happen.
Some of the most effective methods of marketing dental implants include online advertising, PR campaigns, and of course… word-of-mouth marketing
In today's world, there are many options available when it comes to marketing dental implants.
One of the most effective methods of marketing these products is online advertising or digital marketing. By creating an excellent online presence, dental implant practices can reach their target market where they spend the most time…
Searching Google and Scrolling Social Media.
Google Adwords is by far the most effective method of Dental Implant Marketing.
Why? Simple. It's intent based.
The population of people who are missing a tooth – and even further – missing a whole set of teeth (all-on-4 prospects) is smaller than you may imagine. On the other side of the coin, there are only a number of premier providers that can actually solve their problems.
Your goal should be to position your practice as the go-to implant practice.
Another effective method of marketing is through PR campaigns. Every implant case should result in another one down the line. That means getting patient consent for filming and creating amazing before and after patient 'stories' that highlight your art.
Video testimonials are hands down the most effective form of online review – and they are hard to come by. Putting a system in place that would make filming the process as easy as possible would allow you to scale this process and create a testimonial machine.
As your implant case count grows – so does your arsenal of killer content.
Finally, word-of-mouth marketing can also be very effective.
By making sure that patients are satisfied with their implants, dentists can encourage them to spread the word to family and friends. As a result, these three methods combined highlight some of the most effective ways to market dental implants.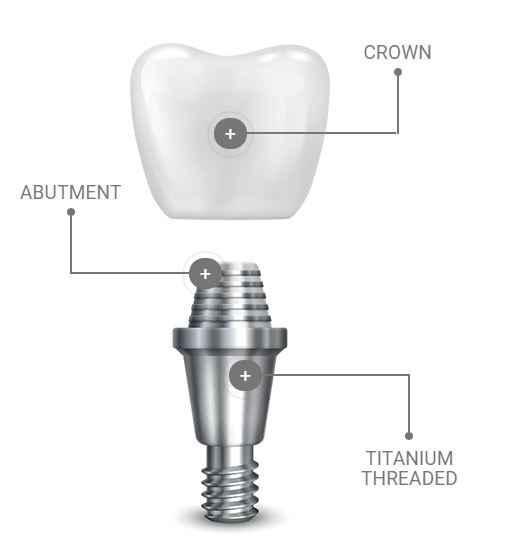 It's important to stay up-to-date with the latest trends in dental implant marketing in order to be successful
As anyone in the dental industry knows, attracting new patients is essential for success. And one of the best ways to do that is to stay up-to-date with the latest trends in dental implant marketing.
By keeping abreast of the latest changes and innovations in the field, you'll be able to better position your practice to appeal to potential patients.
What's more, you'll be able to better understand the needs and wants of today's consumers, and tailor your marketing strategy accordingly. In short, staying current with the latest trends in dental implant marketing is an essential part of any successful practice.
The dental implant market is expected to grow rapidly in the next few years, and it's important for dentists to stay up-to-date with the latest marketing trends. Online advertising, PR campaigns, and word-of-mouth marketing are all effective methods of marketing dental implants.
In order to be successful, it's important to choose the right method or more than likely… a combination of methods for your practice.
Want to discuss what's been working?
Visit our site and drop your information or book a call for a free consultation.